Send Stunning Flowers in Toronto & the GTA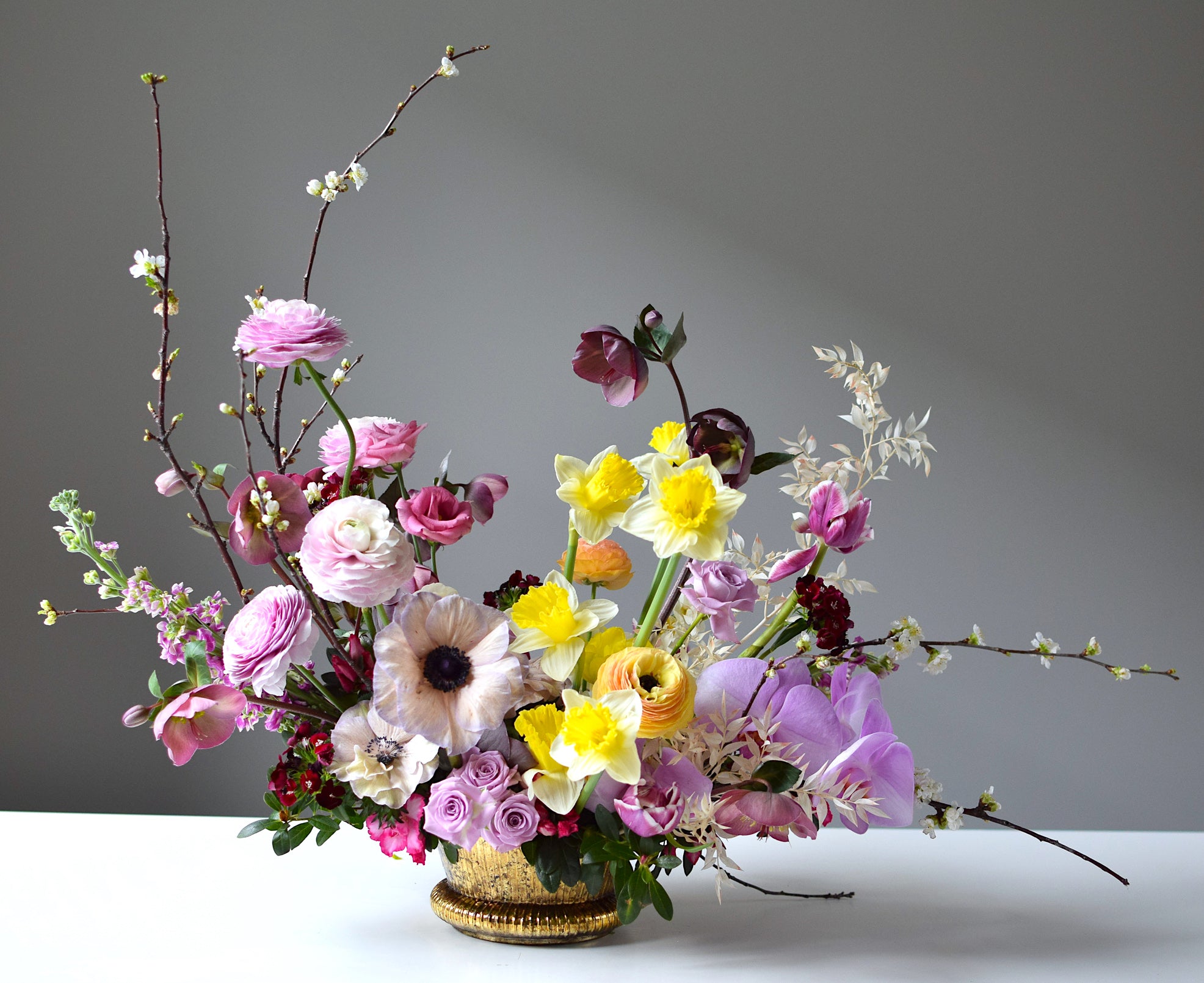 As an online business, we are grateful simply to have been in a position to remain open throughout this pandemic. As soon as COVID-19 really hit Toronto, we became acutely aware of how important it is for people to feel connected, and how difficult that would be during our new reality of quarantine and social distancing. 
Happy birthdays flowers, sorry-your-baby-shower-is-cancelled flowers, happy you-would-have-been-married-today flowers, and sadly, a lot of sympathy flowers too. Our hearts were breaking knowing how emotionally challenging this pandemic had become for everyone, and we felt we had to seek out a way to inject some much needed positivity back into our community. We were inspired to expand what used to be a once-a-month donation (of a free flower arrangement sent to someone that was nominated by the public) into a full-blown seven days a week operation. 
We understand that COVID-19 is a much more significant threat to disenfranchised communities, immunocompromised individuals, and essential workers that just don't have the option of not going into work every day. It must be recognized that certain communities are systematically disadvantaged based on their socioeconomic status. That said, COVID-19 has affected everyone, everywhere, creating a much needed through-line between various groups of people. Although it has been an absolutely tragic event to witness unfold, and words fail us when we try to fully grasp the pain it has caused in so many lives, we've been clinging to a silver lining:
We live in a city filled with heroes. Simply reading all of the submissions that people have written us (describing the ways in which their family and friends have selflessly cared for others) has left us absolutely humbled, inspired, and frequently moved to tears of both sadness and joy. People have fully risen to the occasion, sacrificing their time, their energy, and their belongings to help others in need. All of these incredible people have reminded us just how crucial it is to reach out to lift each other up, not only in difficult times but always.
Below are a few examples that show the various ways in which people all over the GTA have risen to the occasion, demonstrating how powerful cooperation and mutual aid can be when prioritized over individualism and self-preservation. These people have truly inspired us, just as they inspired their friends, families and co-workers to nominate them.
Our Recipients Included: 
A general store owner that immediately kept her doors open to anyone who needed supplies, donating food to local hospitals and operating as a positive space for her entire community. 
A nurse who immediately cancelled her retirement plans when the pandemic hit. She not only continued to care for all of her young patients going through chemotherapy during the pandemic, but, due to social distancing, did so while taking on a more maternal role and comforting them in their families' absences.
A woman who was laid off from her job, and chose to capitalize on her free time by making hundreds of masks, scrub caps and gowns. She delivered them to hospitals, medical offices and long term care facilities all over the GTA.
A small business owner who, although she was struggling to make ends meet, took out a second mortgage on her home so that she could keep all of her staff employed throughout the crisis. Her staff still have no idea that she did this.
A peer support worker who dedicated her time to the most vulnerable communities at a homeless shelter here in the city. The pandemic has made at-risk communities even more vulnerable, and her continued generosity has helped provide a small moment of pause for people whose days are often filled with stigmatization and isolation.
A registered dietician who supports patients with complex mental illness, who, as soon as the pandemic really hit, tuned up her old bike and bought all the gear so that she could safely commute to work and reduce risk to others on the TTC.
A veterinarian who went above and beyond to ensure that his team were able to accommodate emergency visits while maintaining social distancing, and keeping pet owners calm and reassured.
A woman who was struggling with lung issues and COVID-19, whose father had been hospitalized with the same virus, and who had lost her mom to cancer a year ago. Before contracting COVID she had spent all of her time baking and delivering goods to everyone she loved, and her friends wanted to recognize her overwhelming kindness despite all of her hardship.
We should add, too, that for every single on of the above FFF recipients, their nominators stressed the continual positivity that these people radiated out into the world. Not only did they prioritize everyone else's well-being above their own, but they managed to do so with a smile on their face during a time where we are all struggling to stay positive.
Because of them (and the amazing feedback that many of them have sent us after having received their flowers) we have a new-found appreciation for what we do. We already knew that flowers were a meaningful gesture of affection, support, sympathy, or thanks. What we didn't fully realize what just how much a little beauty could affect someone who really needed it. One of our recipients put it so beautifully, better than we ever could, and we'd like to share some of their words with you: "I felt full of gratitude, full of the abundance that can be brought by simply sitting with beauty and being bound to the present by it. Maybe this all seems like hyperbole, or maybe this is something that you're used to, being in the flower business. Though I'm a bit embarrassed with myself, it feels true to say that a bouquet of flowers can change a life. A change doesn't have to be large to be a change, it can be a subtle shift. The reminder of beauty and the feeling of abundance spurs me forward to act from this place. From the place where I see how much grace there has been in my life and have the wish to give it all back."
A simple delivery of flowers is the least we can do to thank all of these absolutely incredible people. We are beyond grateful that we can use our blooms to lift them up, just as their actions have done for so many others around them. We are so happy to say that since mid-March, we have sent out over 110 #WildNorthFFF arrangements, with a retail value of well over $12,000. It has been an absolute joy. 
Next Steps:
Our #FreeFlowerFriday program lifted our spirits, kept us inspired, and connected us to hundreds of incredible people all around the city. We'd like to take this opportunity to remind you all that, beyond the amazing frontline and essential workers that we've been recognizing, anyone can be deserving of flowers! We're delighted to be able to continue this program on a slightly reduced schedule of three times a week, opening it up to anyone whose positivity, dedication, compassion, or resolve has caught your eye. Your neighbour who checks in on you, an activist you know who is fighting injustice, someone who has been going through a hard time and needs a loving gesture – all of these apply, so please don't hesitate to send in their stories. We'd love to hear all about them. 
To all of our FFF nominators and recipients, THANK YOU. You've inspired us in ways we never could have imagined.
Be well, stay safe, and seek out ways to spread positivity to those that need it. We love you Toronto.
- The Wild North Flowers Team