Free Delivery in Toronto!
Your Questions, Answered.
As a private floral studio, we're a bit different from your typical florist!
  We use Ontario-grown flowers all year round! How? Local greenhouses!

  We have free delivery in the City of Toronto (all postal codes that start with 'M')

  All arrangements are unique and made-to-order by our team of floral designers

  We will email you a photo of your arrangement (once it is out for delivery)

  We are not a walk-in retail store and do not sell flowers by the stem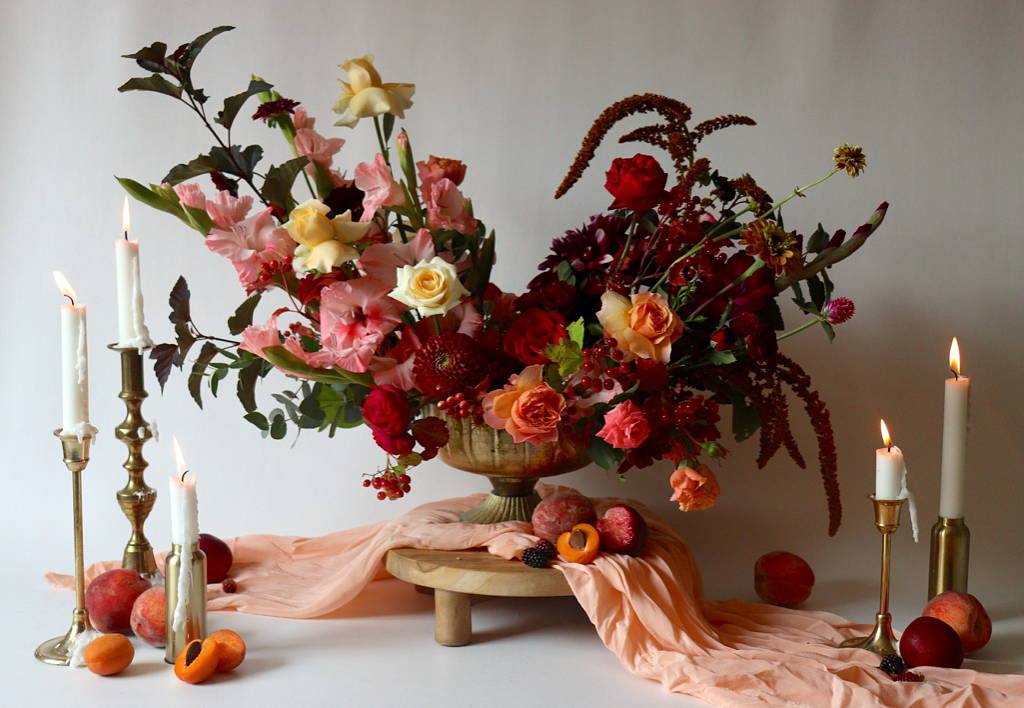 Questions About Deliveries?
Q: When will the flowers be delivered?
A: All orders are delivered between 12:30pm and 6:30pm. We can guarantee delivery to business addresses before 4:30pm. When delivering to addresses that are in the GTA (L postal codes), it is likely that the flowers will be delivered on the later end of that window. Our regular couriers operate under a strict delivery window and cannot guarantee a specific delivery time. If you require a special timed delivery, please get in touch as there will be an additional fee for us to arrange a special courier.
Q: Can I place an order for pick up?
A: Yes, definitely! Please call us to schedule a pick up order. As our studio is a private space with lots going on, we will need to know the time you'll be coming by to pick up your order so we can have it ready for you, and it will need to be paid in full prior to pick up.
Q: Why can't I visit without an appointment?
A: As we are a very busy private studio, we require visitors make appointments with us to pick up a pre-purchased order or to have a meeting with one of our staff. We aren't set up for customers to just walk in.
Q: How do I look after my flowers/plant?
A: We send care cards along with each delivery. These cards detail specific care instructions for the type of arrangement/bouquet/plant that you have received! If you have any questions that are not answered on your care card, feel free to get in touch at orders@wildnorthflowers.com.
Q: What happens if the recipient isn't home?
A: If the recipient is not home at the time of delivery, our couriers can leave the flowers at the front door, with a neighbour, or with a concierge/reception desk when available. Our courier will call the recipient and leave a voicemail to let the recipient know where the flowers were left. If a second delivery attempt at a later date is absolutely necessary, an additional delivery charge will apply.
Q: What flowers will you be using in my order?
A: All of our arrangements are made to order by our staff of floral designers using super fresh locally grown flowers. We receive new flowers nearly every day from our local growers and cannot guarantee which specific flowers will be used in each arrangement - it is up to the designers discretion. This is the creative element of our arrangements and what makes them so unique! Each arrangement is different and includes 8-10 varieties of blooms that our designer will hand-select based on your colour palette preferences.
Q: Can I see a photo of the flowers I've ordered before you send them out for delivery?
A: Unfortunately this is not possible. Each arrangement we make is completely unique and will include a custom combination of locally-grown blooms. Due to our high volume of daily deliveries, we are unable to make changes to arrangements once they have been made. In ordering with us we ask that you trust the creative direction of our highly skilled floral designers to craft the perfect arrangement for you based on the design notes you include in your order. We will, however, send you a photo of the arrangement once it is out for delivery so you can see how gorgeous it is!
Q: Can I order flowers un-arranged and on their own? Do you sell single flowers?
A: We do not offer our flowers outright as they are ordered specifically for our daily deliveries, events, and weddings. As strange as it may sound, each bloom is spoken for the moment it arrives at our studio. We always recommend those shopping for single stem flowers to check out the flower shops at the intersection of Avenue & Davenport - there is lots of great variety there.
Q: Do you deliver to hospitals/nursing homes/funeral homes/hotels/etc?
A: Yes, we do! In order to ensure your purchase arrives safely, please include all applicable information so that we can get the flowers to the recipient smoothly. For deliveries to businesses/hotels/hospitals we will require a room number or a suite number as well as the name of the business/hotel/hospital. A phone number is also required in case we need to contact the recipient directly with any delivery questions.  
Q: How do I start planning my event?
A: A good place to start is to determine your floral budget and the colour palette that would best compliment your event! Our lead designer Beth loves to take on creative projects and can create a completely custom quote once she has an idea of the scale/vibe of the project.
Q: Do you create custom designs for events?
A: We love to take on projects and create designs that are different from the norm! We can create custom floral designs that differ from the style of arrangements on our website if the project allows for a budget of $500+. Please email beth@wildnorthflowers.com for more info.
Q: Do you host workshops?
A: Yes, definitely! We absolutely love hosting workshops in our space. We offer group workshops as well as private ones. Workshops include floral design basics, how to make your own terrarium, bridal bouquets, and more. Whether you are planning a bridal shower, bachelorette, birthday party, team-building activity or work event, we've got you covered. If you'd like to set up your own private workshop, feel free to get in touch at beth@wildnorthflowers.com!
Q: Can I make an appointment for a wedding consultation?
A: Absolutely! We can book in-person consultations for weddings and events with a budget of $3k+. As much as we would love to talk flowers with all folks, we are quite busy in the studio and can only schedule meetings when discussing elaborate events that require lots of planning. Email weddings@wildnorthflowers.com to set up your consult!
Q: How much do your wedding florals cost?
A: Thank you for thinking of us! We truly love creating extra special wedding florals for our wonderful couples. Please email our wedding coordinator Mackenzie at weddings@wildnorthflowers.com with all wedding inquiries as we are not able to give quotes over the phone. Do note it may take one to two weeks to hear back with pricing.
Q: Do you rent out your studio for private events that are not flower-related?
A: Unfortunately at this time we are unable to host any parties or events that are not Wild North workshops. Our studio is super busy and open 7 days a week, which means unless we are running a Wild North workshop we are unable to halt order production!
Q: Do you have a minimum spend for weddings/events?
A: Our minimum spend for personal wedding flowers is $500 before tax. Personal flowers are eligible for delivery or scheduled pick up from our studio. We do not have a minimum spend for events, however there is a small correspondence fee for events that require lots of planning. Before getting in touch with your custom order, please refer to our Centrepieces Collection online. If you have an event coming up that will require custom florals, don't hesitate to get in touch at orders@wildnorthflowers.com!