Send Stunning Flowers in Toronto & the GTA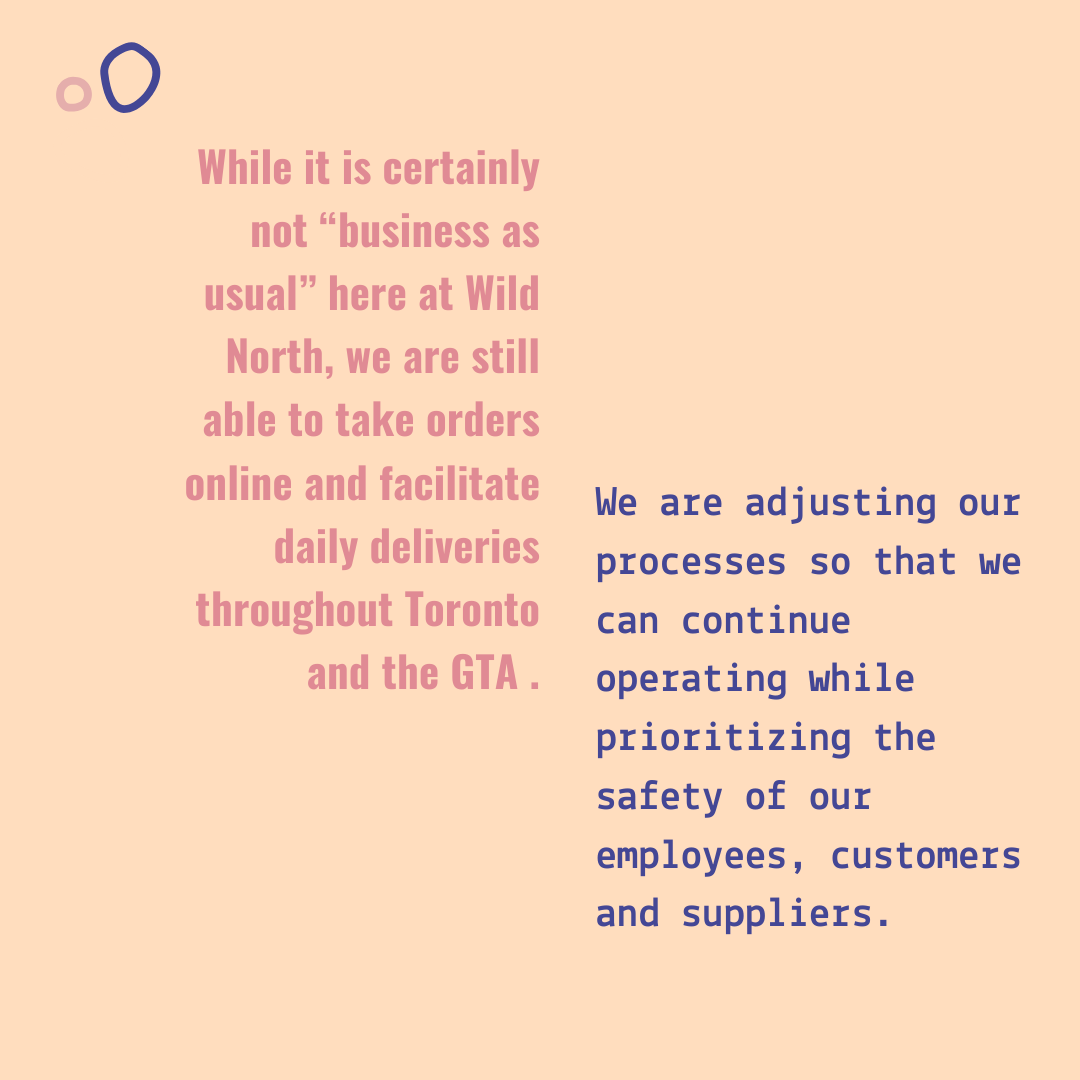 WNF COVID-19 UPDATE: March 27th, 2020 
These are unprecedented times. We truly hope you are all staying safe and socially connected (but physically distant) and looking after each other right now. 
The Government of Ontario has confirmed that online businesses like ours are exempt from the shutdown, but we are taking this pandemic extremely seriously and have introduced many new protocols as a result. We feel an overwhelming obligation to protect our employees and customers and to do our part to stem the tide of this dangerous pandemic. We will, therefore, remain open for business but we will be drastically changing our methods of operation to protect the health and safety of our workers and to promote the greater good of Ontarians. 
WHAT WE ARE DOING TO STAY SAFE: 
We have restricted our business to online orders and contactless deliveries; there is no pick-up option or public access to our private studio. 

We have dramatically reduced the number of employees working in the studio and

i

ntroduced special workflow practices and enhanced sanitizing protocols. 

Anyone who can work remotely is doing so.
We are making sure all employees can drive/be driven to work so that no-one is taking public transit. 
WHAT THIS MEANS FOR OUR CUSTOMERS: 
We are limiting the number of deliveries we take each day so we can stay nimble and adjust as needed. 

Supply of our hard goods has been disrupted, and so we may need to substitute vase types in the near future. 

We will suspend photos and delivery confirmation emails for now, as these steps involve extra activity and proximity in the studio. 
A NOTE FROM OUR OWNER:
We have been inundated with emails, messages and calls from people hoping that we will continue operating during this extremely stressful time. We know that people lean on nature as a medium of communication and love. Flowers and plants help lift spirits, relieve stress and transform physical spaces, and therefore many people are wanting to send flowers to themselves or people they cannot visit. We truly appreciate your continued support of our small but mighty business. 
We know you want affordable flower and plant options right now for your own homes as well as to gift to friends and family. We are looking into how we can provide more options to accommodate this. Some ideas include: bunches of flowers (straight from our growers), "grower's choice" mixed potted plants (both flowering and green), dried flower arrangements, and other pick-me-ups from our fabulous local Toronto makers such as CXBO (chocolates), LOHN (candles), and others. We will update our website and social media pages regularly with our new product options. 
We are extremely grateful that we can continue to show our appreciation for front-line pandemic workers with our daily #WildNorthFFF giveaways. If you haven't already, head over to our website to nominate someone you know that is working on the front lines to fight this pandemic and deserves some free floral love. We are sending out one free arrangement each day. 
We have always been champions of the #localflowers movement. Buying all Ontario-grown flowers helps our local farmers stay alive during this unprecedented crisis. We are honoured to continue to be a part of the supply chain that supports our local flower farmers, the Ontario Flower Growers Cooperative, private courier companies, and local independent makers, while recognizing the need to serve the larger community in a safe and responsible manner. 
Please do not hesitate to reach out to me directly if you have any questions or suggestions. We truly appreciate any and all feedback.
Sincerely,
Jennifer Fowlow, Owner & Creative Director, Wild North Flowers
RE: ONLINE BUSINESSES EXEMPTED FROM ESSENTIAL SERVICES ORDER:
On Tuesday, March 24th the Government of Ontario implemented an Essential Services Order restricting the types of businesses that could continue to operate during the COVID-19 pandemic. The Essential Services Order granted an exemption to businesses like ours that provide services "online, by telephone or by mail/delivery" or that engaged in "online commerce".